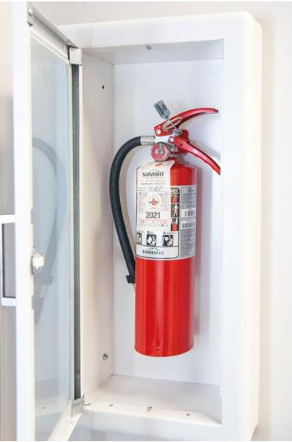 The more you know about fire and life safety, fire extinguishers and their maintenance, the better prepared you will be to protect yourself from a fire. Fire extinguishers are most often the first line of defense for fire protection and can quickly and effectively put out a small fire.
In this article, we will look at 5 facts about fire extinguishers that will be useful to you.
Fact 1: How to use a fire extinguisher
The most frequently asked question is how to use a fire extinguisher. It can be intimidating, but it is critical to be prepared if a small, contained fire breaks out. Remember the acronym P.A.S.S. when operating your fire extinguisher.
To receive proper fire extinguisher training, contact your local Summit Fire Protection branch. OSHA may require fire extinguisher training in some cases.
Fact 2: Where to install fire extinguishers?
The National Fire Protection Association (NFPA) Standard for Portable Fire Extinguishers, NFPA-10, establishes the guidelines. Although the layout of a specific building or special hazards may necessitate more protection, the average building requires one extinguisher every 3,000 square feet and no more than 75 feet of travel distance. The majority of buildings, such as offices, classrooms and assembly halls, are equipped with Class ABC fire extinguishers.
OSHA's website has additional information on fire extinguisher size and spacing.
All fire extinguishers must be placed in a visible location. When installing fire extinguishers (40 pounds or less), the top of the unit must be no more than 5 feet from the floor and the bottom is no less than 4 inches from the floor.
Fact 3: How often should Fire Extinguishers be inspected?
All fire extinguishers in the workplace must be inspected, tested, and maintained on a regular basis, according to NFPA 10 standards. Monthly inspection and annual maintenance and other services are included. These services ensure your extinguishers are ready to use when you need them.
It's critical that you perform regular visual inspections and physical maintenance of your fire extinguishers.
Visual inspections
Visual inspections should be done monthly by the building's owner or someone they designed. Noting the month and year and the initials of the person who performed the inspection on the monthly inspection tag attached to the extinguisher (provided by the Fire Extinguisher Contractor). Pay close attention to the following items during visual inspections:
Location of extinguisher in designated place?
How easy is it to access?
Make sure the needle on the gauge is in the green area.
Weight to determine fullness.
Is the pin and seal securely fastened?
Is there any visible damage to any part(s) of the extinguisher?
Is the nozzle clear of any obstructions?
Physical Maintenance
Your fire extinguishers are required to be subjected to annual maintenance by a certified technician. They must perform an on-site "maintenance" of each extinguisher. This service includes all aspects of an inspection, as well as a thorough examination of all mechanical parts and a check for obstructions in the discharge hose and nozzle. It also includes recording and noting the need for 6-Year Maintenance or Hydrostatic Testing.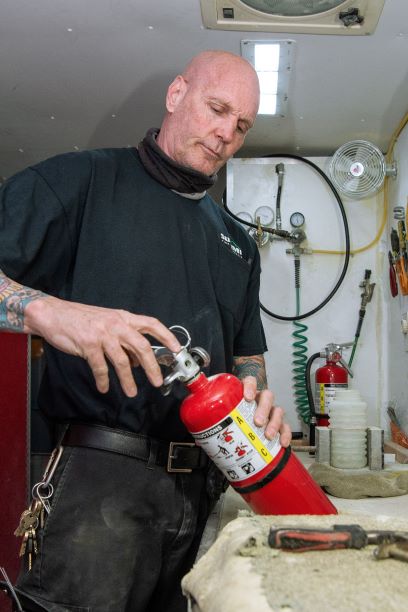 Fact 4: Fire extinguishers need to be recharged if used
Fire extinguishers must be recharged immediately after each use, even if you accidentally discharge a small amount.
Only certified fire protection professionals should recharge fire extinguishers; this meets state codes and OSHA requirements. As a service, Summit Fire Protection's certified technicians are ready to recharge your fire extinguishers onsite.
Fact 5: How much are fire extinguishers?
The cost of fire extinguishers varies depending on the type, size and manufacturer. Make sure you buy the correct type and size extinguisher for the hazard you need to protect. Summit Fire Protection can assist you in determining the type and size of extinguisher your business requires.
It's important to note:
Fire extinguishers are intended to put out small fires in their early stages. Even if the fire seems small, the alarm should be activated and a call to 911 should be made. No one should attempt to extinguish a raging fire. Fires spread quickly, and the smoke and gases they emit can be toxic. If anyone has any doubts about their ability to put out a fire, they should immediately back away from the situation and exit the building, attempting to close the door behind them to limit oxygen in the building, and then wait for the local Fire Department to arrive
Summit Fire Protection inspects, maintains, tests and repairs fire extinguishers of all types. They also rent out fire extinguishers for a small fee. Summit Fire Protection would be happy to assist you; please contact one of our branches today. Follow us on Facebook or LinkedIn for more fire safety tips and resources.