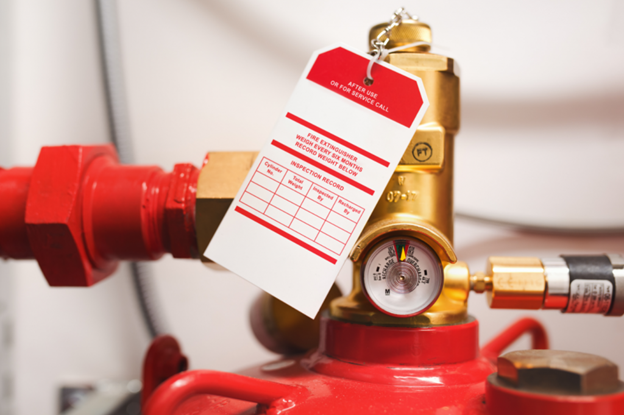 A fire sprinkler system is one of the most common and important fire protection systems used in a commercial setting. However, while they will protect your building from fire, they can cause a lot of collateral damage. Sprinklers can permanently damage equipment, walls, flooring, and a whole host of other things in your building. If you were trying to protect a mission-critical area from fire like a data center or IT room, or areas with sensitive materials that could be damaged by water, are those areas really protected with a sprinkler system?
The good news is that there is an alternative form of fire suppression systems to protect your critical infrastructure, and they're called 'clean agent fire suppression systems.' This article will highlight a few reasons why these agents can be a great choice for your commercial office space.
Zero Water Damage and Residue
Whether you're trying to protect a server room or museum exhibits full of priceless art and artifacts, the traditional fire suppression method using a water sprinkler system can damage those materials. In this case, often the worst thing that can happen to the contents within the structure is for the fire protection system to work perfectly. Clean agent systems use chemicals in a gaseous form to quickly and cleanly suppress and eliminate the fire, protecting many of these important possessions around it. Clean agents primarily extinguish fires through the physical mechanism of heat absorption – literally removing the heat energy from fire to the extent that the fire cannot sustain itself. They quickly and cleanly suppress and eliminate the fire, protecting many of these important possessions around it. Systems are engineered to achieve minimum design concentrations in 10 seconds or less to quickly extinguish fires, and the faster you suppress a fire, the less resulting damage and disruption to your business. And, clean agents prevent more than fire damage, they also cause no collateral damage to the contents of the room. The agent is non-conducting and non-corrosive, and leaves behind no oily residue, particulate, or water. After a system discharge, the agent can be cleared from the room by simple ventilation, minimizing downtime.
They're Non-Toxic
Sometimes in all the talk about protecting equipment and sensitive material you can lose sight of your greatest need: protecting human life. If you have a clean agent system, you can breathe easy. Clean agents are breathable gases; one agent is even used in asthma inhalers. They do not significantly reduce ambient room oxygen levels and are safe for occupied spaces where your most important assets reside. You can rest assured that not only are your building and possessions protected from a fire, but your employees are protected as well.
It's Not Bad for The Environment
The great thing about clean agent fire suppression systems is that, well, they're clean. They were created in response to the need to find an effective fire suppression agent to replace past ozone-depleting agents. Some systems use naturally occurring gases like nitrogen and argon, which return to the environment in their natural state once a suppression system is discharged. Others use agents with low to zero ozone depleting potential. While safety is always the concern over whether you're a good global citizen, it is nice to know you don't have to worry about any adverse environmental effects.
Clean agent fire suppression systems protect your building without harming your employees or your possessions – and do so without putting the environment at risk. If you're interested in learning more about installing a clean agent suppression system in your office building, contact Summit Fire Protection today.